Why You Should Have SEMrush? Hearing this question, maybe some bloggers are familiar with Tools that are useful for looking at the performance of a Website, both in terms of Backlink, Keyword Ranking, and also research.
How important is this for bloggers? Surely very important. Because, by using SEMRush, you can see backlinks that exist on the Website/blog that you guys manage. Of course, this can also be a way to research competitors.
So, what are the advantages of SEMrush?
Features of SEMrush
There are several features that are available in SEMrush, of course these tools are not only useful for bloggers only, but for those who are in the world of Digital Marketing, such as
Site Audit
Arguably this is the most vital and searchable feature by Blogger. Site Audit is a feature of SEMrush that helps you in terms of SEO optimization of a Website.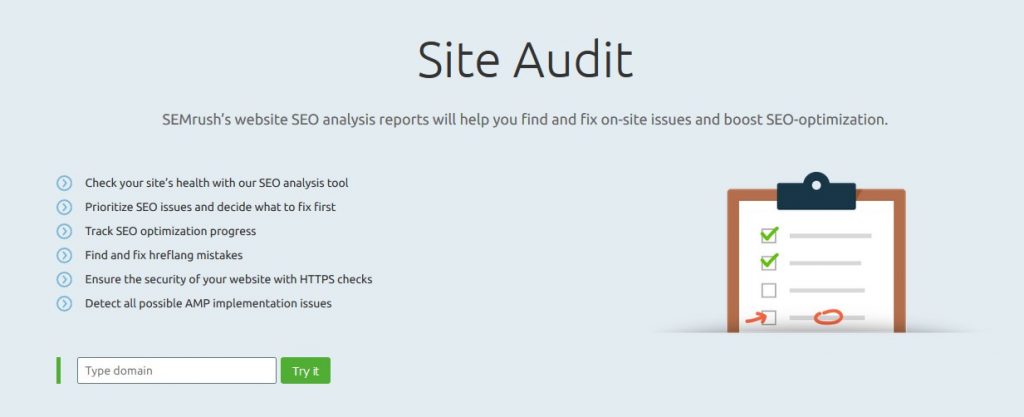 With the Site Audit, you can know the development of the website in terms of On page SEO or on Site SEO, and also know the SEO problems that are preferred to be improved.
Not only that. You can also monitor the existing Hrefslang on your website. Obviously it is very useful to improve the quality of your website.
Analytics Reports
This one feature helps you to see the popular keywords from your competitors, know the organic traffic of your competitors, and also observe the rankings on a domain.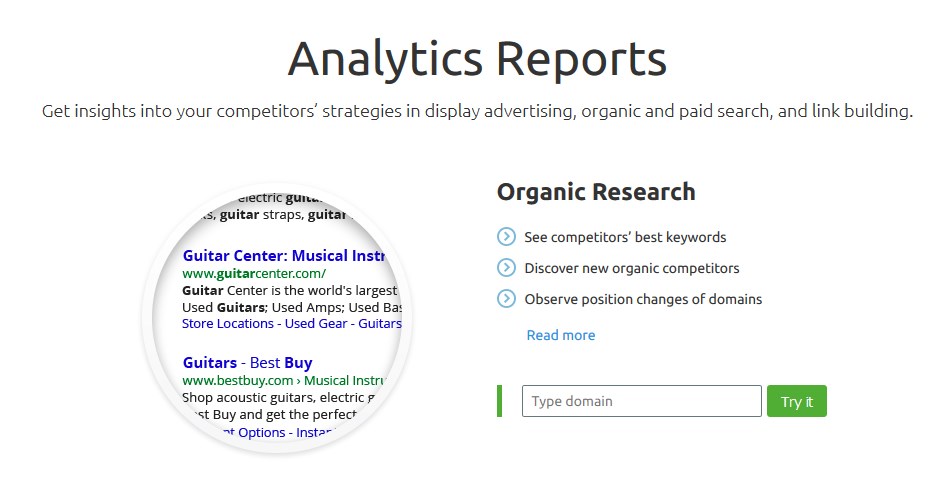 Well, with Analytics Report, you can evaluate your competitors. Obviously you can make improvements from the resulting data.
Position Tracking
In this feature, you can see how your website is doing and see the position of the keywords you might have written in an article.
In addition to knowing the position of your website, Position Tracking can also help you to see if you've been able to rival your competitors, in the same keywords.
And there are also other data, such as Target Different Devices that allow you to view insights from visitors based on the device used.
Advertising Research
Advertising Research is the way that Digital marketers often use, in view of competitors when conducting a Campaign or ad promotion.

With this feature, you can perform in-depth analysis of your competitors, such as how much Budget is issued, monitor the types of ads that competitors use, see new competitors in Google Ads, and also target the ads you create.
Obviously this can be the first step for you who want to take advantage of Digital Ads, as a promotional medium for your Brand or product.
Display Advertising Tools
There are many ways competitors may use to campaign or promote their products. But, do you know? Sometimes a lot of brand owners are having failures, when promoting a product.
Yes, this often happens because of the lack of information about the ad platform being used. Well, with the Display Advertising Tools in SEMrush, you can see the sources or platforms that competitors use, in promoting their products.
SEMrush will also show you the types of ads used by competitors, so you can know, what kind of ads it turns out to have a interest to audiences.
Backlinks Analyze
Backlink Analyze can help you to view or analyze competitors from Backlink terms, as well as the type of backlinks used.

You can also see the parameters or Authority backlinks that are on your competitors. As we know, qualified backlinks are judged by several factors, such as
DA (Domain Authority)
PA (Page Authority)
DR (Domain Rating)
SS (Spam Score)
With Backlinks Analyze on SEMrush, you can easily see a backlink source from your competitors, and then collect that data, as a backlink source for your main website, or Tier 2 and Tier 3 you have.
Keyword Research
Keyword Research is an important thing that bloggers often do, before writing articles.
Why should they do keyword research? Because, keyword research helps them know what keywords are being searched for, and will bring Traffic to their website.
This can also be a way to get organic traffic and the chances of your website appearing on the first page will be even greater.
But keep in mind. You also have to create an article that relate with the title and original.
Keyword Magic Tools
Similar to Keyword Research, the Keyword Magic Tools is intended for the Advertiser to conduct a Campaign by utilizing keyword or keyword.
With this one feature, you can get more than 20 millions keyword ideas than the main keywords you're targeting. Obviously, this can make your product or brand easier to perform on the first page of Google.
For more details, you can directly check the SEMrush Features page
Why You Should have SEMrush?
Okay, as in the title I wrote above, we will go into the SEMrush Dashboard, and also the reason why you should have SEMrush.
Complete features on SEO Dashboard
In addition to some of the features I wrote above, you will see many features in the SEMrush dashboard, such as
Domain Overview
In this chart, you can see how your Domain's status or performance is in Google's search engine. You can see Authority Score, Organic Search Traffic, Backlinks, etc.
Of course, from here you can do the monitoring on the website that you manage, from the data displayed.
For me personally, I am very pleased to see a Backlinks chart. Why? Because, from here you can analyse your competitors in more detail.
Do not forget to pay attention to authority on the existing backlink domain. To keep your website getting a qualified backlink.
Traffic Analytics
After the evaluation, surely you should know how the website you get organic traffic, and where the reader originally came to your website.
With Traffic Analytics, you can see how your website will perform in getting traffic. You can also analyse competitors, from how they get visitors.
Oraganic Research
What is Organic Research? Organic Research is how SEMrush collects data from keywords in articles or a website, and finally perform on the Google search page.
But again, SEMrush always gives more. From the above Organic Keyword Trends data, you can also find out about the changes from algorithms that happened to Google.
Now, from here you can find out, cause or why keywords that you can go down or even rank up.
And if you scroll again to the bottom, SEMrush will display data from popular keywords, which belong to the Organic Keyword category, or come from an Internet user search.
And not until then, there are many more charts of Organic Research that help you to see the development of the website, as well as competitors. Very complete right?
Keyword Gap
This feature is still relatively new to SEMrush. I was also trying to deepen the use of this feature, but I will try to keep it light in the picture below.
If we look at it even further, Keyword GAP itself has the function of monitoring both your website and competitors.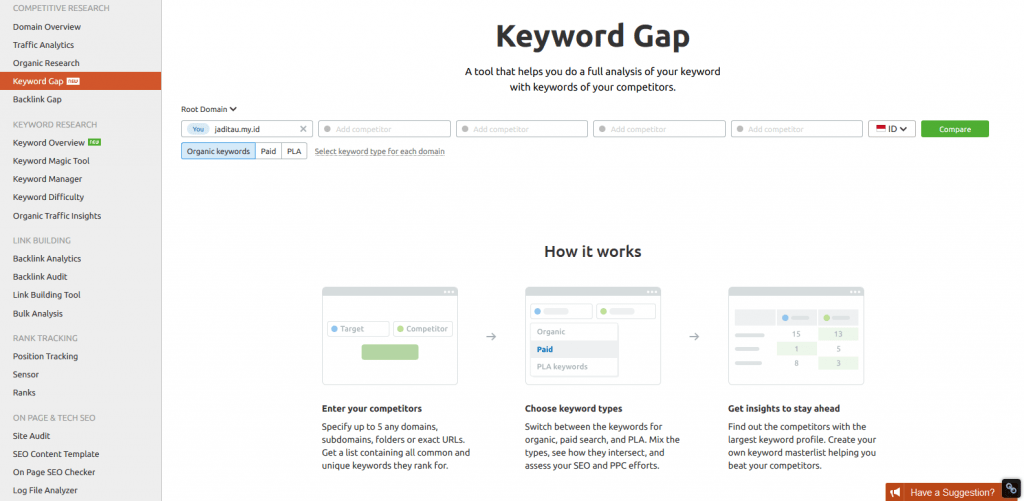 You just need to enter the competitor domain of the keywords you're targeting-> Choose the type of keyword that your competitor is using (organic or paid)-> See Insights data from your competitors.
From the insights data generated from your competitors, you can start to develop what keywords pioneer from your competitors, and start to create relate keywords, to beat your competitors.
Backlink Gap
It is almost similar to Keyword Gap and also Backlink Analyze. It's just that a backlink Gap allows you to see the comparison of your website, with the competitor's website.
Surely not without purpose and reason. This is precisely where you can see where your competitors are getting backlinks, and how to Authority Score from your competitor's backlinks.
From this data, you can sort or filter, on competitors ' backlinks, and start building links for your website.
Backlink Audit
This feature or chart is a further level of Backlink Gap. The Backlink Audit Tool can help you to analyze Authority instead of backlinks that exist on your website.
Obviously this is useful to make repairs, and also further analyze, about the Authority than the backlink you have. Why is it important?
Because, if the backlink you have turned out to have a low authority or even spamming, of course this will affect Indexing, and also the reputation of your own website.
The reference used by SEMrush is named toxicity level of reffering domain. Which is when you have a backlink from a domain that has a high toxic score, of course it will have a bad impact once again.
But not to worry, SEMrush can help you to do Disavow, and also Delete on backlinks that have high Toxic Score. There are 3 options offered by SEMrush
Click Delete > To Disavow
Disavow will make a request to Google, to ignore or reject the backlink as a domain reffering on your website.
Remove will create a backlink to enter in a removal request or a backlink removal, so as not to be the source of your website backlink.
Click Keep > Add to Whitelist
If you feel confident that the backlink is not in the toxic category, you can store it in the whitelist.
Has a variety of useful toolkits
In the previous points, some of the features and explanations mentioned above, are included in the SEO Toolkit. Where it is usually used by bloggers, as well as marketers for campaign activities through the Website.
But, SEMrush also provides other toolkits, which are useful to use, such as
Advertising Toolkit
This Toolkit is useful for Advertiser, who want to do market research in promoting a product or brand.
There are several other features inside the Advertising Toolkit, such as Market Analysis, Keyword Research, and Ad Tracking.
Everything plays a vital role for you who enjoy playing in a Digital Ads, or marketing through Digital Ads.
Social Media Toolkit
Nowadays, there are many marketers who use various platforms to promote their products. Either through the Website, or Social Media.
Obviously, in this case they need a Social Media Tool to support their campaign activities.
Therefore, the Social Media Toolkit at SEMrush is very useful for Social Media marketers in promoting their products.
Here, you can use some cool tools, such as
Schedule Posts – This feature allows you to schedule posts, on some social media platforms, such as Facebook, Twitter, LinkedIn, Instagram, Pinterest, and Google My Bussiness
Get Insights – In this chart, you can see statistics from Social Media that you use to promote your product or brand, you can also view data from your social media followers, and monitor the progress of the social media profile you manage.
Track competitors – by conducting deeper analysis, you can know how the strategy used by competitors, in promoting products through social media. You can also see the success chart as well as the failure of competitors.
Content Marketing Toolkit
With the Content Marketing Tools, you can easily find out what topics Internet users are looking for.
This one Toolkit is almost similar to Keyword Research, but the Content Marketing Toolkit is more specific and also more complete in research affairs for a content.
Well, from here you can start researching and also make quality articles, to be useful for readers, and also have the possibility to perform on the first page of Google is getting bigger.
Conclusion
By using SEO optimization Tools like SEMrush, you can find out how your website is doing on Google's search page, and also collect data from competitor-quality backlinks to build websites you manage. Hopefully useful.